We ensure high quality and comfort for your accommodation and transport.
Our focus is not on hotels or transport – unless they, too, are experiences in themselves. We've been diligently exploring Norway, connecting with local suppliers and experiences since 2005. Our team knows these suppliers personally, ensuring quality, safety, and a commitment to sustainability, which we're more than ready to share with you.
Explore Norway with our meticulously curated selection of top-tier accommodations and premium transportation choices.
Travelers can expect  luxury and comfort with our array of high-end accommodation options in Norway. From lavish villas and high-end hotels to exclusive access to private drivers, rental cars, and helicopter services, we ensure a sophisticated and seamless travel experience. With our main focus on the experiences and activities, we also ensure a comfortable and high standard at all levels of our tours.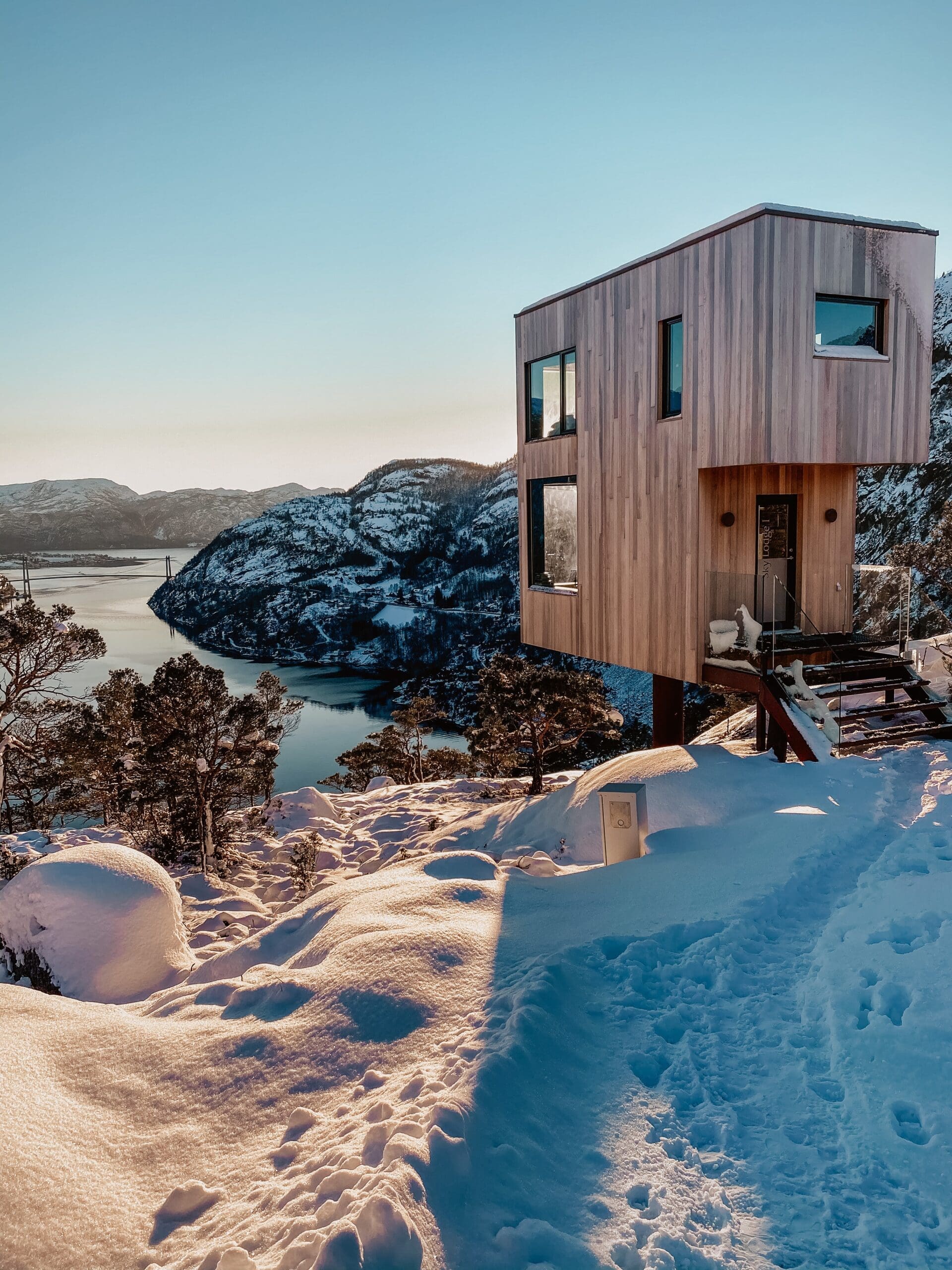 Carefully selected villas that ensures high standard in Norwegian living.
READ MORE
A villa with privat garden and parking lot. The house has lots of space. Great sun conditions. Spectacular view. Calm area. Short way to places such as Pulpit Rock, Stavanger, Kongeparken, Kjerag, Flørli and Lysefjorden.
Jacuzzi , pizza oven, cinema room, five bedrooms. Possible to rent a boat.
Perfect for an active family/friends vacation including toys for the kids and a movie theater for the grown-ups. This house is located near the sea and you can rent the boat. A 20 min drive takes you to the parking lot of the Pulpit Rock, or in the other direction: Stavanger city. Accommodation for 12 people to stay over but is ideal for 8-10.
READ MORE
The Sea-view Villa is a unique holiday home located by the Norwegian coast, about 30 minutes from Bergen, home of Bryggen – UNESCO World Heritage Centre.
The property is private with several acres of land, many hundred meters of shoreline and it is considered one of Norway's most extraordinary holiday homes for rent.
The villa is perfect for guests who want to experience Norway and also value high-end living and service. 
High-End hotels in Norway that will take care of all your needs.
READ MORE
The Hotel Continental in Oslo stands as an iconic landmark epitomizing timeless elegance and unparalleled hospitality. Located in the heart of the Norwegian capital, this historic hotel exudes sophistication and luxury, offering guests a refined blend of classic charm and modern comfort.
With its meticulously designed rooms, adorned with tasteful décor and plush amenities, the Hotel Continental provides an oasis of relaxation amid the bustling city. Boasting world-class dining experiences, including the renowned Theatercaféen, and exceptional service, this distinguished establishment promises an unforgettable stay for those seeking a seamless fusion of tradition and contemporary luxury in Oslo.
READ MORE
The Opus XVI hotel in Bergen presents an exquisite fusion of contemporary design and cultural heritage. Nestled in the heart of Bergen, Norway, this boutique hotel captures the essence of the city's charm, offering guests a refined and immersive experience
.
With a blend of modern elegance and historic allure, the Opus XVI showcases meticulously crafted interiors, luxurious accommodations, and personalized service that ensures a memorable stay. Its central location provides easy access to Bergen's iconic attractions, making it an ideal choice for travelers seeking sophistication and comfort intertwined with the rich cultural tapestry of this vibrant city.